Kline Sanitarium was the first medical hospital in Anoka, Minnesota. Dr. James F. Kline opened the sanitarium after nine years of building his practice in the little river town. When it was built in 1902, the building had 54 rooms with consultation offices, operating rooms, reception areas, a conservatory, a private apartment for Kline and his family, and room for up to 30 patients to stay as they recovered.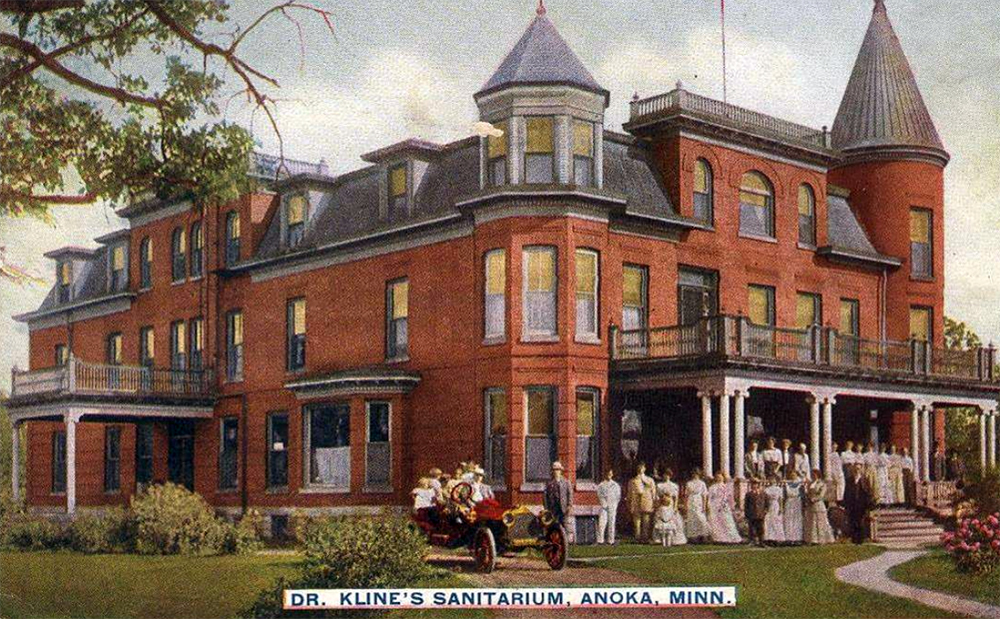 Kline and his staff of 14 doctors specialized in treating ear, nose, and throat issues and respiratory illnesses but also acted as general practitioners. The practice prided itself in treating rich and poor alike, whether their health issues were chronic or treatable. Ill-defined ailments were usually treated by eating healthier, regular exercise, improved hygiene, massage, medication, and plenty of rest at the hospital on the banks of the Rum River. Therapeutic baths and massage were added to the care of people with respiratory maladies.
For 30 years, the sanitarium provided a wide range of medical care and surgical needs for the residents of Anoka and the surrounding communities. Kline operated the hospital until he died in 1932. His son Dr. Harry Kline took over running the hospital until 1935. The building was then sold to Paul Pierce, who turned it into a hotel.
Pierce was careful not to destroy the historical integrity of the building as he converted it for his use. Rooms like the operating and reception rooms were divided into smaller spaces by building walls around significant features instead of over/through them. This thoughtfulness helped the building retain its historical character to this day. The hotel rooms that Pierce created are now used as apartments.
The building was added to the National Register of Historic Places in 1979. You can see the building at 1500 S Ferry Road.