When I arrived at the Medo Central Cemetery, I didn't know much about the history of the area. The cemetery is located about 20 miles south of Mankato in Mapleton, Minnesota. This is a pocket of the state I hadn't been to before. Yay! I love visiting new counties/towns and crossing them off my list. When I got home and did a little research about the area, I found some really interesting history.
Medo Township sits on land that once belonged to the Dakota and later became a reservation of the Ho-Chunk (Winnebago) people in 1855. After the Ho-Chunk ceded their land near Long Prairie, they were moved to 200,000 acres along the Blue Earth River. In 1863, a special act of the U.S. Congress exiled the Ho-Chunk from Minnesota. Medo Township was organized the same year. Medo is an English version of the Dakota word, Mdo — a native plant similar to wild potatoes that grew in the area. (If you want to know more about the Ho-Chunk in Minnesota during this time, check out this MNopedia article.)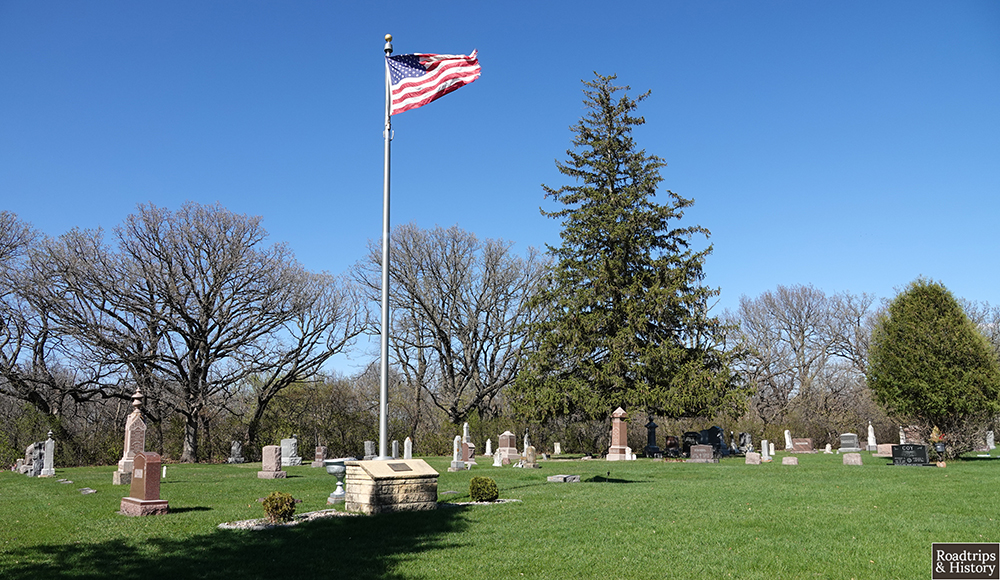 Four different towns sprung up on the eastern edge of the abandoned reservation. Pemberton, Medo, Little Cobb, and Cream were settled by mostly Norweigan immigrants. Medo was the largest town with a sawmill, feed mill, two general stores, a hotel, and a wagon maker. Believe it or not, the local creamery could be found in Cream. And Little Cobb was the smallest of the towns, with farms making up its primary industry.
By 1907, Medo had become a virtual ghost town with businesses moving to nearby Pemberton. The commercial area of Cream followed in 1911. Pemberton soon became the largest town in Medo Township and the only one remaining today.
While there are small church cemeteries all over the area, the Medo Center Cemetery seems to be a non-denominational place where settlers and their families could be laid to rest. Sadly, The first handful of burials were children. Eva May Goodrich died a month before her fifth birthday in 1864, making her the first. Her younger brother, U S Grant Goodrich, is buried alongside her — he died in 1865. Little Susie A Ledbeter was just 10 months old when she died in 1864. You get the picture. It makes me wonder if the cemetery started out as a children's cemetery or if the amount of children buried here is just a sign of the times.