The first group of settlers in this section of Brown County was made up of eastern Yankees. Iberia was named after a town in Ohio where many settlers lived before moving west to Minnesota.
Iberia's Early Days
In 1866, the little village included a log schoolhouse, a handful of homes, and a cemetery. Preliminary plans for the westward expansion of the railroad from New Ulm put Ibera on the route. However, revised plans took the line north through present-day Sleepy Eye. So, like many other small towns, Iberia never grew into a bustling town.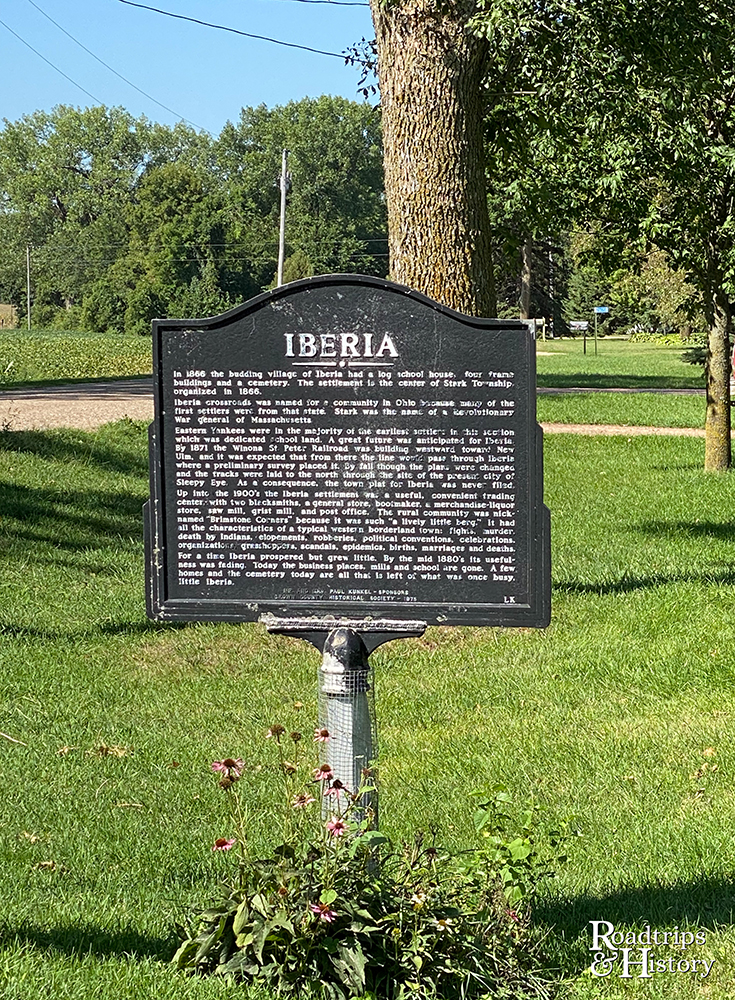 Even without the railroad, Iberia was known as a prosperous crossroads town. Local conveniences included two blacksmiths, a general store, bookmaker, liquor store, sawmill, grist mill, and post office. It even earned the nickname Brimstone Corners for sometimes being a little too lively!
Although the town began to fade by the 1890s, it held on well into the 1900s. All that remains today are several houses and a beautiful old cemetery.
Stories in the Stones
The cemetery in Iberia definitely has an atmosphere about it. A fence defines the cemetery that's tucked back into a small wooded area. Several tall trees provide deep, cool shade. Like many old cemeteries, the ground dips where the casket was placed. Several graves still have footstones opposite its headstone. And the graves are old — more than half of the people buried here died before 1885. Here are a few of their stories.
One of the most notable markers is for the Bluem family. The marker reads, "Killed by Indians" at the top. Below that, "Father and Mother, My Sisters & Brothers." Then it lists the family members: Martin Blim, Died Aug. 18, 1862, Lizie Blim, Died Aug. 18, 1862, Margarett & Liz Blim, Died Aug. 18, 1862, Adam & Charlie Blim, Died Aug. 18, 1862. Sadly, the family surname was spelled wrong on the marker. But if the family was killed, who put this marker here. It turns out, one of the children survived the attack.
The Bluem family heard from a neighbor about the Dakota attacks. They were on their way to the relative safety of New Ulm when they were attacked about three miles east of Iberia. The entire family was thought to be dead, but 12-year-old John was hidden well enough in the long grass to be overlooked. He survived and later had this stone placed for his family.
Oscar Slocum joined the Union Army just months before the Civil War ended. He made it home from war, safe and sound. He bought a bit of land near Iberia, got married, and started farming. On February 13, 1866, Oscar was on his way home from a friend's house during a snowstorm and must have lost his way. His neighbors searched for him the next day. He was found dead on the road, laying with his back to the wind, about 150 yards from a house. He'd only been married for two months.
A diphtheria outbreak ravaged the area in 1879-80, killing several in Iberia. One family lost five children in the span of a few days. They were reportedly buried here, but their graves are lost to time because. Sadly, no marker remains for them, if there ever was one.
David LeRoy Rima died in 1906. His family wasn't sure where he was buried within the cemetery, so they recently placed a marker for him near the spot where other family members were laid to rest.
The most recent burial was Wilhelmina Heidemann. She was 81 when she died in 1937.