The little town of Golden Gate, Minnesota, sprang up around John Heimerdinger's grist mill in the 1850s. The town grew to include a schoolhouse and a few homes near the mill. Further south, the post office, a general store, blacksmith shop, the town hall, and a few more houses dotted the one road that ran through town. The Golden Gate Cemetery would have been the last landmark along that route until you arrived in the next town.
The cemetery is located in a gated, lush clearing between Highway 4 and farm fields. Headstones are grouped together, likely in familial groups, with plenty of space between them. Many markers have sweet carvings of animals, leaves, books, and trees.
Browsing through some of the obituaries of people buried at the Golden Gate Cemetery provided information about how some of the younger folks died. Childbirth. Scarlet fever. Pneumonia. Grip/Influenza. Inflammatory arthritis. Apoplexy (stroke). Consumption (tuberculosis). The older people typically didn't have an illness spelled out in their obit, likely because they died of the general ailments that afflicted older people.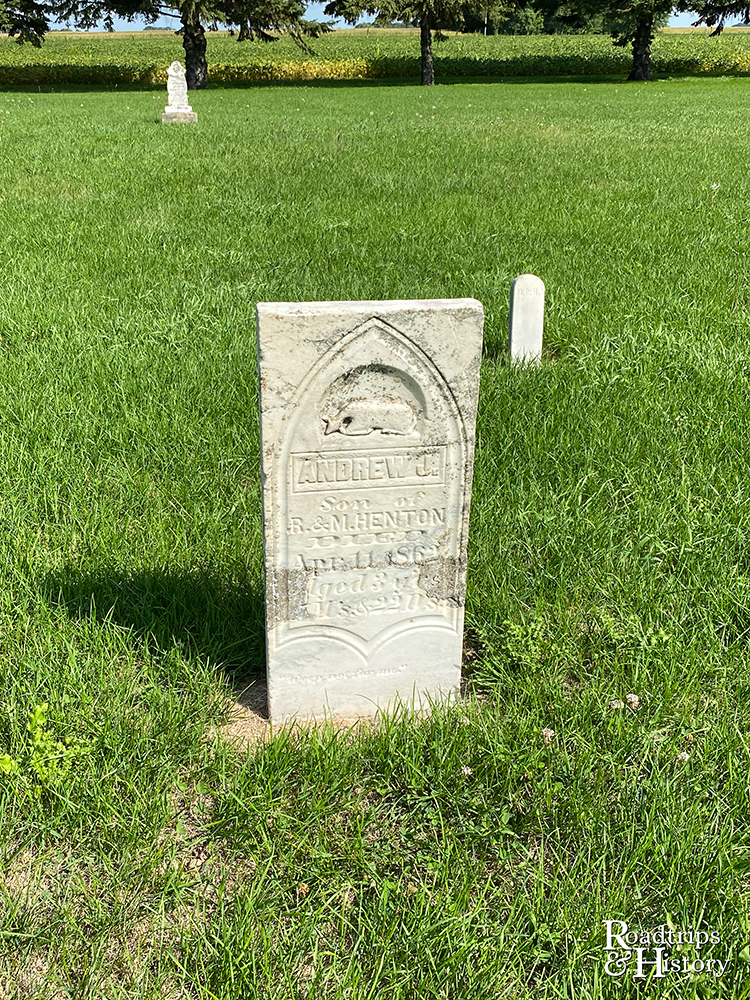 Little Andrew J. Henton was one of the first burials in the cemetery. He was just three years old when he died in 1862. Alfred W. Talbot followed in 1870 at the tender age of one year. He has a lovely carving of a bird sitting on a leafy branch on his grave marker. Philander Lee was born in Canada in 1816 and died 70 years later in Golden Gate. Pioneer and grist mill operator (mentioned above) John Heimerdinger is here, too. He died in 1901. Plenty of people here died in their 60s and 70s; the oldest person known to be buried in the cemetery is Sarah Thompson. She was 83.