World-renowned author F. Scott Fitzgerald was born in an apartment on the second floor of this lovely Victorian building in Saint Paul, Minnesota, on September 24, 1896. Edward, Molly, and little Scott lived here until Edward's wicker furniture manufacturing business failed in 1898. The family packed up and moved to Buffalo, New York, for about a decade before returning to Saint Paul. 
The building, and its mirror image next door, were built in 1894. The original layout had two apartments on each floor of the building. The Fitzgerald family wouldn't have had one of the shardy porches when they lived here; they were added to the building in 1905.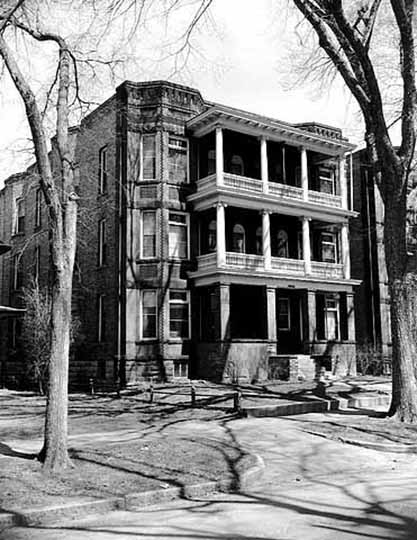 Decades after the deaths of Edward, Molly, and Scott, the Fitzgeralds wouldn't have recognized the building. By the 1970s, the building had been subdivided into 24 units and had become a venerable flop house. The run-down building was plagued by crime and drug activity until it was purchased and restored to its original layout.
Because of its status as the birthplace of a literary icon, the building became the first in the metro area to earn a Literary Landmark designation by Friends of the Libraries in 2004.
You can visit the birthplace of Fitzgerald at 475-81 Laurel Avenue in Saint Paul.