St. Paul has retained quite a few of its old, historic downtown buildings. So it's hard for me to come here and tell you that you have to see this one or that the Merchants National Bank building is special in some way. Truth is, on the surface, it's no more special than Landmark Center, City Hall, Union Depot, or countless others. But it is the last remaining piece of the businesses that once thrived along Jackson Street.
Many of the buildings we've lost were not unlike this one: Massive. Built in the late 1800s. Hefty Romanesque design. Rusticated red sandstone exterior. But as the last example of those once-thriving businesses with their showplace buildings, I guess it is special, and you really should see it.
Merchants National Bank moved from the old St. Paul Press building to this beauty in 1892. The bank had just doubled its capital to over a million dollars and used some of it to construct their own building. It cost around $170,000 to build and featured many special touches that made customers feel like their money was safe at Merchants National.
The exterior features intricately-carved details in the sandstone that give it an ornateness matched by few others in the Twin Cities. A two-story lobby featured a wide staircase that led to offices on the third and fourth floors. The offices were rented out primarily to lawyers and accountants.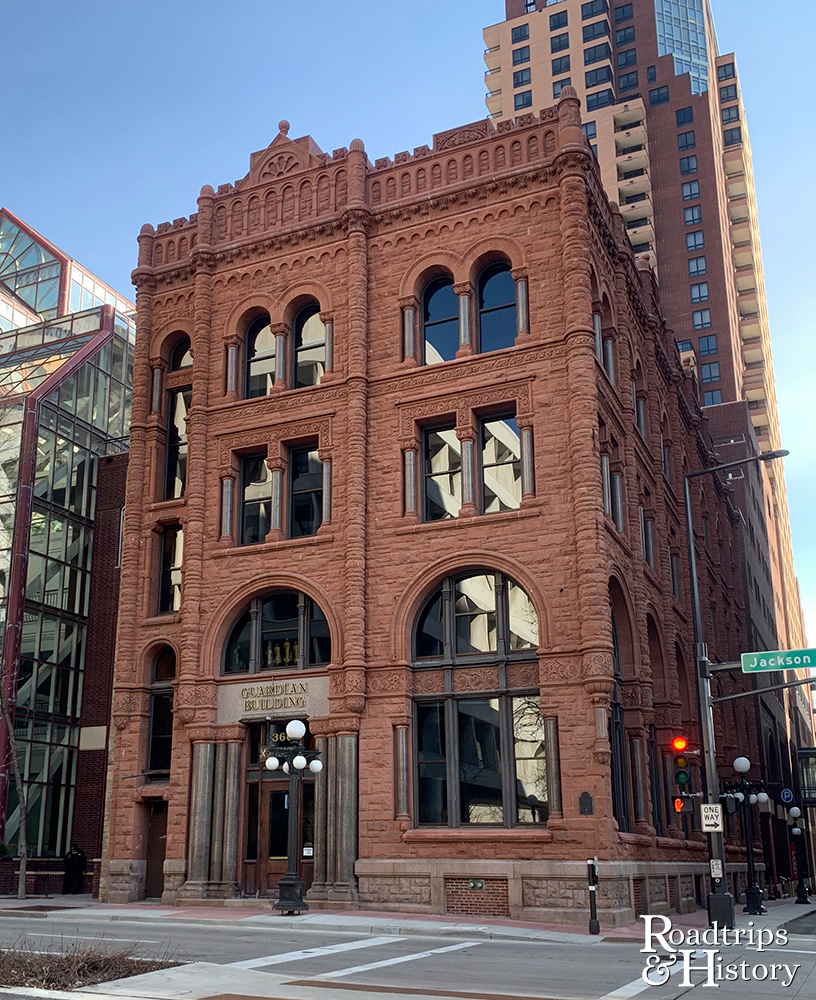 The future of this showstopper became a point of contention in 1967 when the city planned to widen Jackson Street and demolish the Merchants National Bank building to do so. Thankfully, a group of architects, historians, and concerned citizens banded together to urge the city council to spare the structure. They stressed that it was an important reminder of the buildings that once ruled the city. It worked.
The building was added to the National Register of Historic Places in 1974. It recently underwent a significant interior and exterior renovation, including reconfiguring the interior space of the upper floors to make it into offices, exterior tuckpointing and washing, and the missing parapet was built back. It looks magnificent!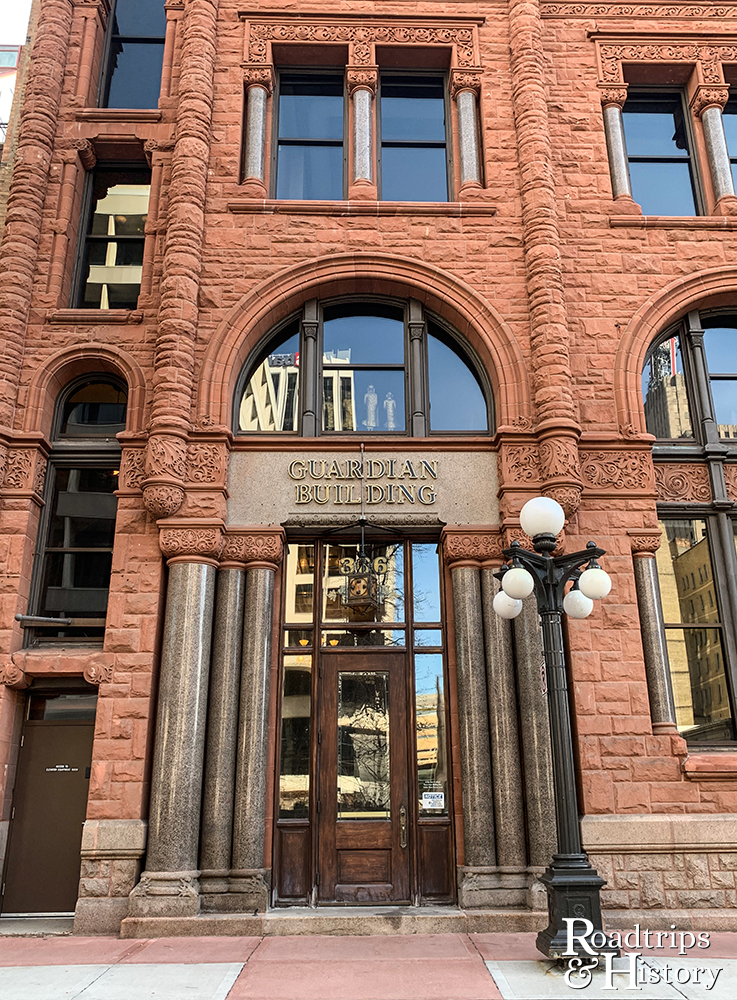 Today, it's been renamed the Guardian Building. It's now home to several child advocacy groups. So next time you're downtown, visit the corner of Jackson and Fifth and imagine traveling back in time while being surrounded by massive masterpieces like this one. You can also visit the Germania Bank Building — which is similar in design — just four blocks away on the corner of Wabasha and Fifth.
Side note: The bank only stayed in the red sandstone building until 1916 when it moved into their newer, 16-story building two blocks away on Fourth and Robert. That building was the tallest in St. Paul until 1931 when the First National Bank Building was built next door. Merchants National Bank was absorbed by First National Bank in 1931.